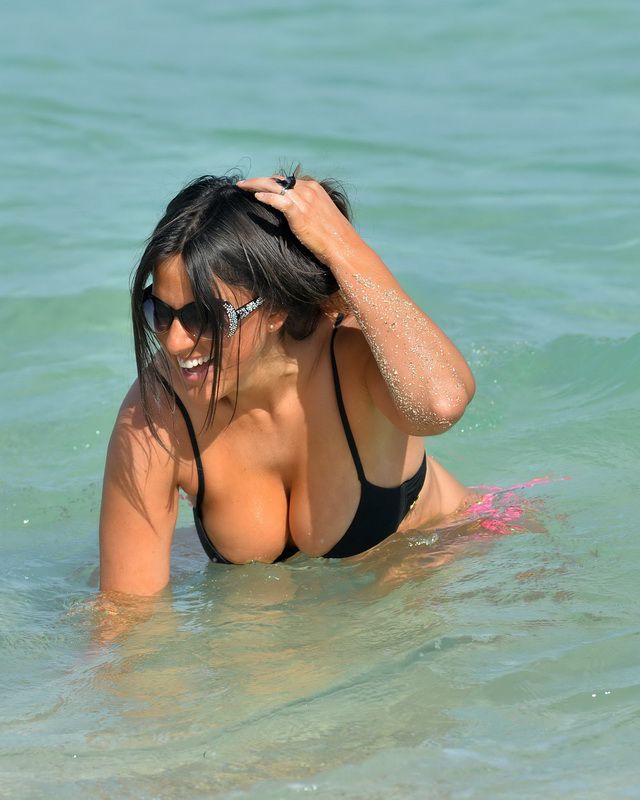 Guyz, I need your help! Please stare at the first pic of Claudia Romani and her tits in water and tell me if her nipples were only by a little kept inside the bathing suit… Just by a couple of millimeters and we could have seen her boobs like two jugs surfing at the water surface. All in all, this amateur photo shoot of Claudia on the beach in Miami, is only by a little bit short of a porn movie, or at least the beginning of a porn movie, just before she takes off whatever clothes she has on. I mean she checked a lot of poses worthy of a good sex tape:
Bent on her knees? Check!
Splashing water on her ass? Check!
Ridiculous outfit? Tiny, pink thong bikini and push up bra with a net top – check, check, check!
Hanging boobs? Check!
Arched back with legs in the air? Check!
Hell, I could go a while about her appearance in our gallery today, but I'll leave you to discover yourself. And at the end…have a moment of gratitude for the former GQ model that insists on making us happy every time she goes to the beach!