Joanna Krupa In A See Through Outfit At Trick Or Treats! Annual Treats Magazine Halloween Party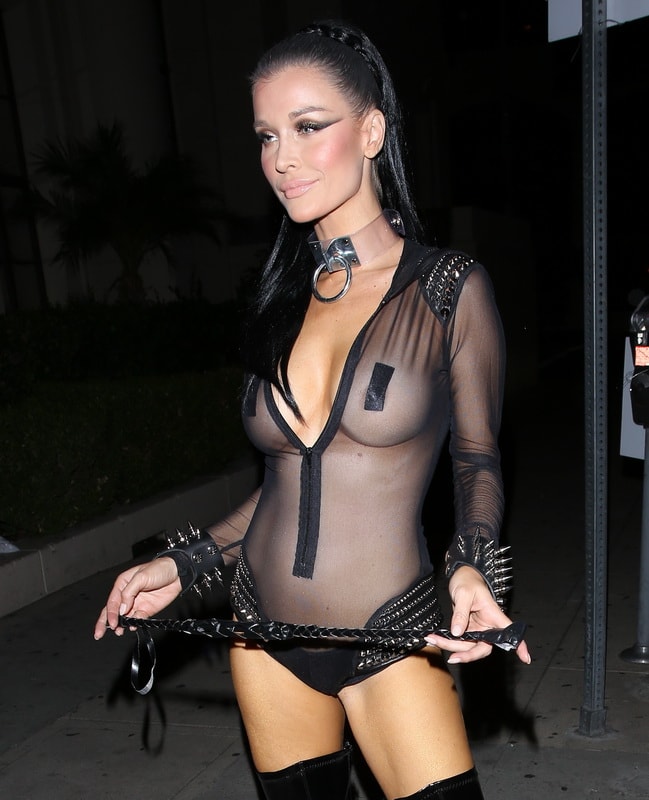 We've seen her at least three times only in October and we couldn't get enough of Joanna Krupa! This hottie had the sexiest outfits for Halloween and in this gallery we see her going to Trick or Treat! 6th Annual Treats Magazine Halloween Party in Los Angeles. We don't only see her, we see through her clothing. It's a barely there fine net, complete with black boots and a black nipple tape! I love tits – I also love tape on tits! Because first of all they have to be braless, and second, the tape is square not round as the nipple so you get to see the areola, or parts of it at least… As we've seen before, her boobs are perfectly round and hold their place like she is a teenager, except she is not.
She is a cougar that wears underneath the see thru net body stocking a sexy thong that gives way to a very, very cheeky ass! Her entire ensemble is pornographic, she even has a whip for the naughty… I need to be slapped first by this dominatrix! Get in line guyz and get wet!