Mariah Carey Braless Pokies While Shopping In Hawaii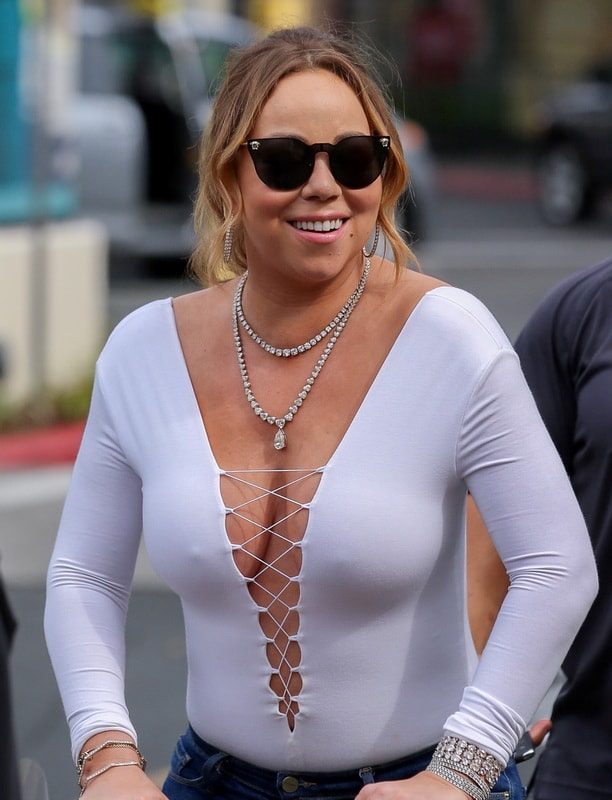 What a glorious day to be grateful! And to show her gratitude, Mariah Carey went shopping on Thanksgiving Day braless. Let me make it clearer, as she shopped for the traditional turkey she showed us her traditional nipples in a white, fitted blouse… She had a strapped cleavage all the way to her belly button holding her big boobs in place, mirrored on her back! Her lovely pokies bejeweled her chest, alongside her diamond necklaces. Now that is one way you could go shopping, surrounded by a crew of people – her entourage – dressed down so you could look glamorous, adorning sparkly jewels and shades, while buying fowl.
Don't let my mild sarcasm fool you, the 46-47 years old diva is performing three sold out concerts in Oahu, Hawaii, where the pics were taken. She is one of the best-selling music artist of all times with a career spanning over 3 decades, from 1988 and still going. Her good vocals and round body sure mesmerized a lot of people! Today, let's enjoy her melons poking through to our screens and hope clearer pictures are to come!